Life Groups
Join us as we watch episodes from Season One of The Chosen. We will begin the class by watching an episode and then spending some time in discussion of the episode afterward. Class will be held in the sanctuary. This Bible study is open to all ages and begins on Wednesday, April 20 at 6:00pm.
What is The Chosen?
The Chosen is a "multi-season series about the life of Christ" and the people who followed Him. It dramatizes the stories of Peter, Philip, John, James, and the other disciples, giving historical context and some fictional plot lines to paint a picture of what Jesus' ministry looked like in the lives of real people – the ones we read about in the gospels. The Chosen is not meant to replace God in our minds or hearts, but to present a visual aid to one's existing journey with the Lord.
Join us as we watch and discuss together this ever popular show on the life of Christ!
April 20, 6pm: "I Have Called You By Name"

April 27, 6pm: "Shabbat"

May 4, 6pm: "Jesus Loves the Little Children"

May 11, 6pm: "The Rock on Which It Is Built"

May 18, 6pm: "The Wedding Gift"

May 25, 6pm: "Indescribable Compassion"

June 1, 6pm: "Invitations"

June 8, 6pm: "I Am He"
Download: Weekly suggested Bible readings for each Chosen episode
Download: Viewing Guide 1
Download: Viewing Guide 2
Download: Viewing Guide 3
Download: Viewing Guide 4
Download: Viewing Guide 5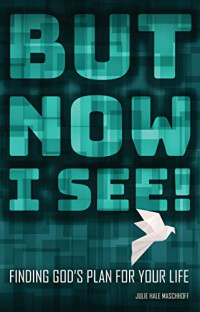 New Women's Life Group starting!
Tuesdays In the Narthex
6:30pm - 8:00pm
May 24 to July 19, 2022
But Now I See: Finding God's Plan for Our Lives: This eight lesson series will help us assess where we are right now, explore what God is saying to us in His Word, and see what He has in store for us. We will be using "But Now I See" by Julie Hale Maschhoff. Books may be purchased from Barbette Lowndes for $5. Zoom and Live Stream will not be available. Childcare will not be available. For any questions, speak to Barbette at .
The Acts of the Apostles
The Acts of the Apostles chronicles the history of the church immediately after Jesus' ascension. In only three decades, a small group of frightened believers in Jerusalem transformed into an empire-wide movement of people who had committed their lives to Jesus Christ, ending on a high note with Paul on the verge of taking the gospel to the highest government official in the land—the Emperor of Rome. We struggle with fears over how others will react to our faith or with breaking out of our own routine long enough to invest in the life of someone else who needs the gospel. Allow Acts to encourage you to walk more closely with God so that you might make Christ's name known with the boldness and the zeal of the apostles. We will meet on Monday evenings in the Ybarra home at 6pm for about an hour beginning on January 24 – March 21 for this study. For more information contact Rick Ybarra at . This Life Group is open to adults of all ages and food and beverages will be available. Childcare will not be provided. Please bring a bible.
These small groups gather together during the week in order to deepen their relationship with Jesus through the study of God's Word, strengthen their relationships with one another, pray for one another, encourage one another, serve one another, and give lots of love and understanding to one another.