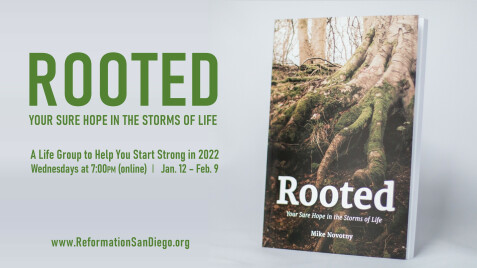 Life Groups
Rooted: Your Sure Hope in the Storms of Life
A Life Group to Help You Start Strong in 2022
Life has a way of making you feel like a tree tossed in a storm—and this can leave you feeling unsure, unhappy, overwhelmed… uprooted. What would it take for you to feel at peace and safe no matter the storms you face?
To help you get off to a strong start in 2022, we're inviting you to join Pastor Werner to do life together online in this new Life Group. We plan to meet for approximately one hour each Wednesday evening, starting January 12. Together we will explore a book by Pastor Mike Novotny that will show us what a life that's rooted in Jesus is like. Because when you're rooted in Jesus… when you sink your roots deep into his Word… it doesn't matter what life throws your way. A life deeply rooted in him is a life full of peace, joy, and so much more.
Thanks to a generous donation from a family here at Reformation, we have 100 copies of this wonderful little book available free of charge – enough copies for every family or single adult who would like one. We'll be starting on Wednesday, January 12, at 7:00PM, so in order to get a copy of the book to everyone who would like one, here are three ways to get yours:
Pick your copy up here at Reformation – Pick up your copy at a worship service on the weekends, or, you can pick one up from the church and school office anytime during the week.
Request someone drop your copy off to your home – Contact the office ( or 858-279-3311) and one of the pastors, elders or leaders can drop your copy off at your home.
Request a copy be mailed to you – If you would prefer, we can mail your copy of the book to you at your home. Contact the church office and we'll make that happen.
Do you want more love, more joy, more peace, more trust in your heavenly Father – in short, do you want more fruit in your life? Then join us each week as we plant roots. Because then, as Pastor Novotny writes in his book, we can be confident of this:
If you've started following Jesus for any amount of time, you know that a strong faith isn't something you pray for and there it is. It's a patient process, but it's a predicable one. If you plant the right seeds and have the right fruits, God will bring back some incredible fruit.
Here are the roots we'll be planting each week:
January 12 Root #1: Get a Group
January 19 Root #2: Gather Together
January 26 Root #3: Grow Closer to Jesus
February 2 Root #4: Give Generously
February 9 Root #5: Go and Tell
We plan to send out the Zoom link each week to everyone on our Reformation email distribution list. If you're not on that list or aren't sure, but would like to receive the Zoom invites, contact the Church Office ( or 858-279-3311) and we will make sure you get the Zoom invites.
The Acts of the Apostles
The Acts of the Apostles chronicles the history of the church immediately after Jesus' ascension. In only three decades, a small group of frightened believers in Jerusalem transformed into an empire-wide movement of people who had committed their lives to Jesus Christ, ending on a high note with Paul on the verge of taking the gospel to the highest government official in the land—the Emperor of Rome. We struggle with fears over how others will react to our faith or with breaking out of our own routine long enough to invest in the life of someone else who needs the gospel. Allow Acts to encourage you to walk more closely with God so that you might make Christ's name known with the boldness and the zeal of the apostles. We will meet on Monday evenings in the Ybarra home at 6pm for about an hour beginning on January 24 – March 21 for this study. For more information contact Rick Ybarra at . This Life Group is open to adults of all ages and food and beverages will be available. Childcare will not be provided. Please bring a bible.
The Rock Speaks: 10 Lessons based on 1 Corinthians 10:4
Drawing from images used throughout the Bible, The Rock Speaks by Cindy Steinbeck is a stepping-stone to a deeper search of God's Word. This series guides us to see God's magnificent creation in the many forms of rock. Books may be purchased from Barbette Lowndes for $5. Zoom and Live Stream and childcare will not be available. For questions, speak to Barbette at or 858-243-2142. We will meet in the Narthex on Tuesday evening at 6:30pm starting February 1 and running through April 5.
These small groups gather together during the week in order to deepen their relationship with Jesus through the study of God's Word, strengthen their relationships with one another, pray for one another, encourage one another, serve one another, and give lots of love and understanding to one another.