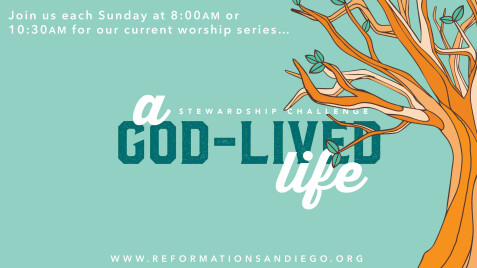 Worship Services
September 1, 2021
Welcome to month #2 of our "A God-lived Life" Stewardship Challenge! I pray that those of you who accepted the challenge for the month of August were empowered by God's grace to grow in living the God-lived life as you made commitments to get rid of roadblocks and to create new routines – routines that are helping you to grow in living the life of a disciple. I pray that you have been blessed to grow in living the truth that Psalm 1 expresses: Blessed is the one… whose delight is in the law of the Lord, and who meditates on his law day and night. God grant you strength to continue what you have started with his grace and blessing!
This month, the particular focus of the God-lived life is a life lived for others, a life of generosity. God allows us the opportunity to serve and love one another, especially those who are part of our communities. Our challenge card this month will focus on being a good neighbor. What makes someone a good neighbor? How can you show God's love to others by being a good neighbor? How can our church be a good neighbor to our community? How can we be present for others?
During the month of September, our challenge is this: Escape your comfort zone. Pray for strength to be present and live the life that God created just for you. A God-lived life. A life lived for others.
Each month we'll give you a different challenge card (watch for it in the mail or get one at church). Pray for God's strength and commit to at least one goal or as many as you desire. A list of additional challenge ideas is available online (click here). Once you have prayerfully committed to your goals, you can either bring your challenge card to church and place it in the box in the narthex or you can keep it to help remind and encourage yourself. We're inviting everyone to then fill out the online commitment form (click here). Let's encourage one another to live out our commitments!
May God bless us as we live a God-lived life, serving others!
Yours in Christ,
Pastor James M. Werner
If you missed it last month, here's a brief overview of our "A God-lived Life Stewardship Challenge":
What does a God-lived life look like? It looks like Jesus.
God became human and lived life in our place. Jesus Christ lived the perfect God-lived life. Now, living as a Christian, a little Christ, we have the privilege of demonstrating what God looks like in how we live our lives, in living lives that show God.
A GOD-LIVED LIFE STEWARDSHIP CHALLENGE
For the next four months, God's Word will be challenging us, and we'll be challenging one another to live a God-lived life. And that encompasses everything. It's our whole lives. We will be talking about a life of being a disciple, a life lived for others, a life of hospitality, and a life lived shrewdly over the next four months.
Each month, we will be introduced to a challenge that we then prayerfully commit to carrying out the rest of the month. These challenges ask us—people who are moved by the grace of God and Jesus' life and death in our place—to commit to acting on the encouragements to put the Word into practice.
How will we commit to the challenges? As individuals, we are going to fill out a different challenge card each month. This will help to involve our entire family of faith in the challenges and help us encourage each other in the challenges.
Location
4670 Mt Abernathy Avenue
San Diego, CA 92117
Phone: (858) 279-3311